Listen Notes: The Best Podcast Search Engine for Listeners, Podcasters and Businesses (2022)
What Is Listenotes.com?
Listen Notes is a podcast search engine and database, providing a user-facing website and a developer-facing API. The website looks and functions much like "the Google of podcasts" as it search the Internet's podcasts. You can also curate your own podcast playlists. listen to your favorite episodes later. Listen Notes helps you, the listener, take charge of what you want to search based on topics that interest you the most.
Does Listen Notes Have an App?
Listen Notes (as of 2022) does not have a native iOS or Android app. Instead, its browser version is where the users discover podcasts, and create playlists. They can also create their own accounts on listenotes.com.
What Are Listen Notes for Podcasts?
Listen Notes works very much like a database of podcasts.
More and more people use Listen Notes to search podcasts by topics, where they may discover your podcast. This is similar to how people discover websites on Google, movies on IMDb, books on Goodreads… A greater amount of podcast apps and services use our API to access our comprehensive podcast database.

ListenNotes.com
What Is "Listen Score" on Listen Notes?
Listen Score (LS) is a metric that shows the estimated popularity of this podcast compared to other rss-based public podcasts in the world on a scale from 0 to 100. The higher, the more popular. Calculated from 1st and 3rd party data. This information is updated monthly.
What Is "Global Rank" on Listen Notes?
Global Rank shows how popular the podcasts is on a global scale. For example, my podcast (Feisworld Podcast) is one of the top 2.5% most popular shows out of 2,937,320 podcasts globally, ranked by Listen Score (the estimated popularity score).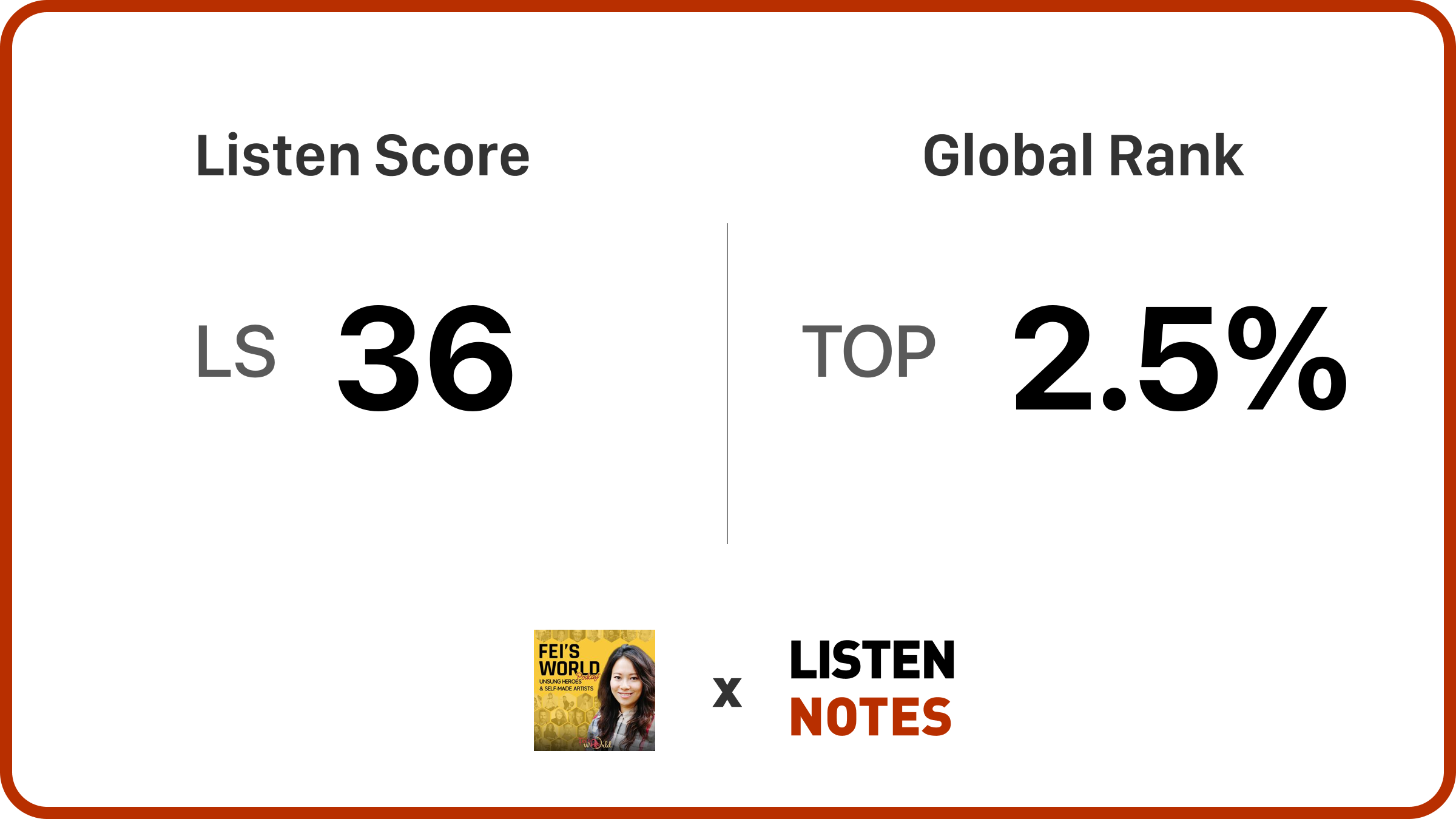 How to Add a Podcast on Listen Notes?
"Listen Notes has a very comprehensive podcast database. It is very likely that your podcast is already in our database. So it is very likely that you will see the Listen Notes page for your podcast immediately after you submit the iTunes URL or the RSS url." – Listen Notes
If you can't find your podcast on Listen Notes, you can submit it here.
How to Delete a Podcast on Listen Notes?
Currently I can't seem to find an easy way to delete a podcast once it's indexed by Listen Notes. You may have to contact them directly to remove your show.
How to Create Playlists on Listen Notes?
Listen Later is a tool for building your own playlists of podcast episodes. The playlist you create has an RSS feed that can be added to any podcast player app. Get started here.
How to Advertise on Listen Notes?
Instead of traditional ad blocks on Listen Notes, the platform offers opportunities for creators to listen to opportunities they are looking for under the Classified Ads section. Learn more about how it works here.
Does Listen Notes Have an API?
Yes. Listen Notes offers a developer-friendly and Enterprise-grade Podcast API. Structured, relevant, real-time.
You can search the meta data of 2,937,333 podcasts and 145,698,060 episodes by people, places, or topics. Get started by visiting https://www.listennotes.com/api/
Who Created Listen Notes?
Listen Notes was created by Wenbin Fang. I had the pleasure of interviewing him in 2019. Here's the transcript of our conversation.
How to Access Podcast Stats?
You probably hear and wonder about this often – how many podcasts are out there? How many new podcasts per month? Per year? Listen Notes has compiled the data ready for you to access here.
Wrap Up
What else would you like to know and learn about Listen Notes? Please let me know in the comments below.
If you wish to learn more about podcasting, how to work for podcasters in this creator economy, be sure to check out our academy.